---
Sorry, this job expired on Jun 30, 2023. Below are other jobs that may be of interest to you.
---
---
Spanish
Fine Dining
Xiquet (chee-KETT) by Chef Danny Lledó features a sought-after tasting menu showcasing the finest products from around the world served with warm, Mediterranean hospitality. Known as one of the best fine dining restaurants in Washington DC for its modern Spanish cuisine, Xiquet has held a MICHELIN Star since 2021 and earned MICHELIN's Sommelier of the Year Award in 2022. In the same year, AAA honored Xiquet with the travel authority's highest rating, making it the only Five Diamond restaurant currently in the city.
As a member of the team at Xiquet, you will have the opportunity to work with award-winning chefs and operators who are dedicated to the art of hospitality. You will learn what it takes to earn and maintain the status of a MICHELIN Star restaurant, and see the impact of that level of care and expertise on guests' faces every day. While learning from industry experts, you'll enjoy creating unforgettable experiences for those celebrating the most important milestones in life. If you are passionate about hospitality, have a desire to learn from the best, and know that you can make a meaningful contribution to a small and dedicated team, we would be honored to have you join us.
Awards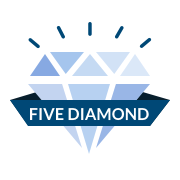 2022
2022
2021