---
---
Required Years of Experience
5 years
---
Job Details
Make it Nice Hospitality is the award-winning restaurant group behind Eleven Madison Park and Davies and Brook. The Company is launching a new brand, Eleven Madison Home, which will bring the quality and deliciousness of its restaurants into homes across the country. The team is looking for an experienced Creative Director to help lead this new business. This role will be instrumental in projecting the vision and brand, as well as supporting the commerce platform with engaging content.
Duties and Responsibilities
Create and oversee the content calendar for Eleven Madison Home
Deploy unique brand-building and commerce-driving content across various platforms and applications (4 – 6 each month)
Align content goals with marketing strategy
Hire and oversee third parties to execute photo and video content, as well as editing of content
Create shot lists – produce and direct photo and video shoots
Manage budgets and timelines to ensure profitability and project success
Develop story lines for shorter and longer-term campaigns
Create written materials for web platform, weekly newsletters and promotions
Ensure common voice for brand among all channels and media
Ensure all stakeholders are connected and well represented in each piece of content
Oversee Social Media Manager to ensure the brand vision is deployed across social channels and social media initiatives are executed
Qualifications
5+ years' experience in content creation management and/or direction
Strong oral, written and interpersonal communication skills
Strong conceptual ability and visual aesthetic
Ability to connect design to busines strategy
Self-motivated and strong sense of ownership towards the products you create
Organized and meticulous attention to detail
Ability to meet deadlines and adapt to changing conditions
Strong collaboration skills and ability to work effectively with a variety of leaders
---
Compensation Details
Compensation: Salary (Based on Experience)
Benefits & Perks: Health Insurance, Dental Insurance, Vision Insurance, Paid Time Off, 401k, Commuter Benefits, Dining Discounts
---
---
---
American
Fine Dining, Restaurant Group
3 Employee RecommendationsSee Details
Part of Make it Nice
Eleven Madison Park is a fine-dining restaurant driven by a commitment to serve the most delicious food with the most gracious hospitality. We feature a thoughtful multi-course menu, inspired by local and seasonal ingredients. Led by Chef Daniel Humm, the kitchen and dining room teams work together to create one-of-a-kind experiences for our guests. We are proud to have been awarded four stars from The New York Times, three Michelin stars, 2016 James Beard for Outstanding Service, the Ferrari Trento Art of Hospitality Award, and to have been named the best restaurant in North America on the World's 50 Best Restaurant List.
As a part of Make it Nice, employees at Eleven Madison Park are given an opportunity to discover and pursue their passion while learning and challenging themselves. Our team is made up of diverse people committed to collaboration, contribution and excellence.
Awards
2021
2020
2019
2017
2020
2018
2012
2018
2017
2016
2015
2011
2008
2004
2014
2016
2011
2015
2014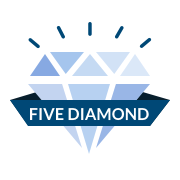 2020