---
---
Required Years of Experience
0-1 years
---
Job Details
SKILLS:

I. Comprehensive understanding of the English language.
2. Ability to communicate effectively with co-workers and managers.
3. Good organization skills/ Team player/ Multitask.
4. Able to work in a high-pressure environment.

RESPONSIBILITIES:

1. Can operate dish machines to company and manufacturer specifications.
2. Uses proper measurements of detergent and sanitizer in the dish machine.
3. Restocks all dishes, glassware, utensils, pots, and pans.
4. Removes all garbage.
5. Breaks down, cleans, and sanitizes the dish machine at the end of a shift.
6. Keeps dish and other storage areas clean and organized.
7. Performs additional responsibilities, although not detailed, as requested by Executive Steward, Supervisor, Chef, Sous Chef, or Kitchen Manager at any time.
8. Maintain equipment kitchen (oven, fryers, flap top, grilles and stoves) clean
9. Maintain floor, walls, ceilings clean

ADDITIONAL QUALIFICATIONS:

1. Knowledge of basic sanitary guidelines.
2. Knowledge of basic dish machine operations.
3. Knowledge of basic cleaning supplies and chemicals.
4. This position will spend 100% of the time standing.
5. Occasional environmental exposures to cold, heat, steam and water.
6. The individual must be able to transport up to 50 pounds (push/pull), on occasion and up to 35 pounds
regularly.
7. Must be able to hear with 100% accuracy with correction.
8. Must be able to see 20/20 vision with correction.
9. Able to work : Holidays, weekends and any day/shift.
---
Compensation Details
Compensation: Hourly ($15.00)
Benefits & Perks: Health Insurance, Dental Insurance, Vision Insurance, Paid Time Off, 401k
---
---
---
Spanish, Tapas / Small Plates
Boutique Hotel, Bar / Lounge
Located in the heart of Chicago's theater district and just minutes from Millennium Park, the Loop business area and Michigan Avenue shopping, theWit is a unique and inspiring blend of the amenities you'd find in any of the world's 5 Star resorts and the excitement and flair of an extraordinary boutique hotel.
Inspired by the book "Wit", a collection of hilarious and poignant quotes from the famous and infamous, theWit is a hotel meant to embrace and enlighten the spirits of our guests. Creativity and expression are its true architects; designed and created to be as much the plot of your story as it is its setting.
theWit has brought a new energy and vitality to the downtown Chicago Loop. Striking design, unparalleled comfort and remarkable services create a dramatic sensory experience and accentuate urban living at its finest.
Awards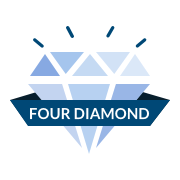 2020