This event date has passed.
---
Date & Time
Tue, Jan 25, 2022, 12pm – 2pm EST
Tue, Feb 1, 2022, 12pm – 2pm EST
Tue, Feb 8, 2022, 12pm – 2pm EST
Tue, Feb 15, 2022, 12pm – 2pm EST
Tue, Feb 22, 2022, 12pm – 2pm EST
Venue
Eleven Madison Park
11 Madison Ave, New York, NY 10010
View Map
---
Details
Eleven Madison Park is looking for people to join our Team!
We are hosting an Open Call Every Tuesday 12pm- 2pm, for all Dining Room, Pastry, and all Kitchen Positions

We are a fine dining restaurant located on Madison Square Park in New York City. There has been plenty written about our restaurant, so we invite you to do some research and read whatever it is that you find. But when considering applying, remember that a job is not only about where you work but also WHO you get to work with. And when you do your research, you won't be able to find much about the actual people who work here. So, a bit about them…
We get to work with an amazing group of individuals every day. They are full of passion and integrity, they are kind and genuine, they are intelligent, creative, and ambitious. To be clear, they take what they do VERY seriously, but they don't take themselves nearly as seriously as you might expect. While striving to be the best, they never lose sight of how important it is to have fun.

What we looking for are good people – those who are genuinely hospitable, who strive for excellence, who like to learn, and are passionate about whatever they decide to do with their lives.

If you are interested in joining our team and feel that you would fit within this culture, but can not attend our open call, please send your resume to [email protected].

We look forward to meeting you.



Make it Nice is the parent company behind Eleven Madison Park and Davies and Brook. Our company culture supports the growth and development of our employees, and provides opportunities for education and advancement. We offer a comprehensive benefits package, including medical/dental/vision, flexible spending accounts, employee dining discounts, 401k, and paid time off after a required waiting period. Make it Nice provides equal employment opportunities (EEO) to all applicants for employment without regard to race, color, religion, gender, sexual orientation, national origin, age, disability, genetic information, marital status, amnesty, or status as a covered veteran in accordance with applicable federal, state and local laws.
---
Map
Eleven Madison Park
11 Madison Ave, New York, NY 10010
---
Fine Dining, Restaurant Group
Part of Make it Nice
Eleven Madison Park is a fine-dining restaurant driven by a commitment to serve the most delicious food with the most gracious hospitality. We feature a thoughtful multi-course menu, inspired by local and seasonal ingredients. Led by Chef Daniel Humm, the kitchen and dining room teams work together to create one-of-a-kind experiences for our guests. We are proud to have been awarded four stars from The New York Times, three Michelin stars, 2016 James Beard for Outstanding Service, the Ferrari Trento Art of Hospitality Award, and to have been named the best restaurant in North America on the World's 50 Best Restaurant List.
As a part of Make it Nice, employees at Eleven Madison Park are given an opportunity to discover and pursue their passion while learning and challenging themselves. Our team is made up of diverse people committed to collaboration, contribution and excellence.
---
Awards
2014
2015
2016
2014
2015
2016
2011
2017
2017
2012
2018
2004
2008
2011
2018
2019
2020
2020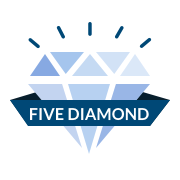 2020
2021
2010